Welcome!
All are welcome here at Macalester Plymouth United Church. We are a community of peace, love, and justice. We don't claim to have all the answers, but we ask the questions together. We believe God's love is big enough for everyone – and we mean everyone.
We belong to two denominations: the Presbyterian Church (USA) and the United Church of Christ.
We welcome and affirm LGBTQ+ folks.
We stand for peace and justice.
We care for the earth and maintain consistent sustainability efforts.
View our COVID-19 response.
What To Expect
Services
Our services include singing and a sermon. Communion is celebrated once per month. We affirm many words and images to talk about God.
Dress
Feel free to wear whatever clothes are most comfortable for you!
Parking
Parking is available in the parking lot behind the church off Macalester Street, in the surrounding Macalester College parking lots, and on the neighborhood streets around the church.
Kids
Children are always welcome in worship or to drop in any of our children's activities (listed in the bulletin) during the service. Activity bags are found in the Narthex. Nursery care is available from 9:30 am to 12:15 pm for children 6 weeks – 3 years.
Hearing Loop
Our sanctuary is equipped with a hearing loop to enhance the worship experience for people with compatible hearing aids.
After the Service
Stop by the Social Hall for a cup of coffee or tea and a chance to get to know others in the congregation! Programs for various ages are offered at 11:15 am. These forums are an opportunity to learn and connect. Check out the church calendar or the bulletin to see what's coming up!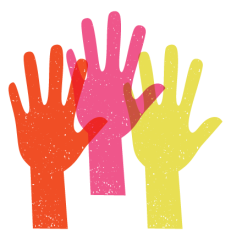 Other Ways to Get Involved
During Worship:
Nursery (ages 0 – 3)
SPARK! Preschool (ages 3 – 5)
Kids' Celebration (age 3 – grade 5)
Music Garden (ages 3 – 5 and parents)
Alleluia Choir (grades 3 – 5)
Program Hour (Sundays After Worship):
SPARK! Elementary (1st – 5th grade)
Program Hour (Sundays After Worship):
Explorers Sunday School (6th – 7th grade)
Other:
Program Hour (Sundays After Worship):
Other:
Handbell Choir (ages 10+)
Young Adults Gatherings
Women's Bible Study
Men's Breakfast
Women's Breakfast
55+ Fellowship
Craft Afternoon
Parents Conversation Group